M

U

L

T

I

–

C

O

L

O

R

E

D
KITCHEN FUN
Color-code the contents of your cabinets and brighten counters with new appliances and kitchen ware.
Rachel Ray Stoneware and other products
available in yummy hues such as: Eggplant (shown), Red, Chocolate, Orange, Green, and Bright Blue
Paula Deen Signature Porcelain Cookware and other products
available in charcoal speckled texture, solids and duo-tones like Butter (shown above), Robin's egg blue, brown sugar, oatmeal, red, purple, rustic green and olive– just to name a few
Le Creuset Signature Cookware Sets from Williams-Sonoma
Choose from variety of colors, including: Cobalt Blue (shown),  Flame Orange, Ocean Blue, Classic Red, Dune/Ivory, Lemongrass– which is a really trendy color this year. Some people are using a similar shade and calling it Grellow.
CB2 by Crate&Barell coined the term and shows it throughout their new catalog for home decor and furniture like dining room tables…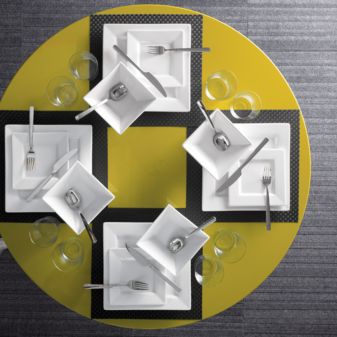 Ginny's Brand Exclusive Toaster and other kitchen/dining products
Selection of their spectrum: Denim Blue (shown), Basil, Red Delicious, Steel, Charcoal, Peacock, and White for those of you prefer classic/plain-jane/vanilla.
KitchenAid Artisan Stand Mixers and other delicious gadgets
found at BedBath&Beyond; a gift from my Mother-in-law
available in so many colors its scary: White, Ice Blue, Almond, Green Apple, Pistachio, Pink, Tangerine, Caviar, shades of Black, Gray, Chrome, Cobalt Blue, Empire Red, Majestic Yellow, Blue Willow, Gloss Cinnamon, and so on…
Basically all the colors of the rainbow or box of crayons. It's like Crayola helped design and name these colorful culinary products. I wish I could be the person that comes up with new color games. I think I would be really good at it.
Add a splash of color to your kitchen or cupboard. This tonal trend is popping up everywhere. I think all cookware designers now offer items in bright colors. You can mix it up or pick one color for your entire collection.
For me, I love red… and although it doesn't coordinate with the kitchen in the house we bought… I still love all my red appliances and how great they look. Cooking is fun and this just adds another level to it.
Spice things ups! Don't be afraid of being bold in the kitchen. Next to the bedroom, I believe the kitchen is the second most important room in a house. Our families spend lots of time there. We spend time their while whipping up recipes– so our personalities can show through in the cookware we use.